Area Info
Hearst Castle
This is Cambria's biggest attraction, located five minutes north of Cambria. They have tours both day and night, but make sure you get a reservation. The reservation number is 800-444-4445. Their website is: www.hearstcastle.org You can also purchase your tickets at the Cambria Chamber of Commerce (www.cambriachamber.org) (805)-927-3624 or stop by the office at 767 Main Street, open daily from 9am to 5pm.
Golf
There are over a dozen golf courses located in Morro Bay, Paso Robles, Atascadero and San Luis Obispo. All are about 20-45 minutes away. In Morro Bay there is a beautiful course overlooking the water - http://www.slocountyparks.com/facilities/morrobay.htm In Paso Robles, the best course is Hunter Ranch (www.hunterranchgolf.com)
Shopping - www.cambriachamber.org/business_directory/shopping.htm
Cambria is known for its shops. People of ALL ages can find at least a few shops in which to amuse themselves. There are gift shops, art galleries, clothing stores and antique emporiums. There are LOTS of shops for the ladies of course, but there are also quite a number of shops for kids, teens and even males between the ages of 25-60! (But to be honest, a lot of guys end up at the main bar in either the West Village [West End Bar and Grille] or the East Village [Camozzi's Saloon].)
Wine tasting - www.pasowine.com
There are approximately 75 wineries within an hour of Cambria. The Paso Robles wine-growing region is beginning to gain worldwide recognition. The HOT days and cool nights allow for excellent grapes of both colors. Some of our favorites include Castoro Cellars (www.castorocellars.com), Tobin James (www.tobinjames.com), Eberle (www.eberlewinery.com), Justin (www.justinwine.com) and Wild Horse (www.wildhorsewinery.com). There is a daily van that leaves from The Lodge in the late morning, returning in the late afternoon (www.thewineaffair.com). Private cars/limos can also be arranged.
Elephant seals
There are always at least a few hundred elephant seals, but from December through February, close to 10,000 elephant seals cram themselves onto a small beach about ten minutes north of Cambria. The male seals weigh over 5,000 pounds. Over 3,000 babies were born during this past winter. The best part is that the seals can be viewed from a boardwalk that can be as close as ten feet away from the seals.
Check out: www.elephantseal.org
Fine dining
For being such a small town, Cambria has a large number of excellent restaurants. The "white tablecloth" restaurants include The Brambles (www.bramblesdinnerhouse.com), The Black Cat (www.blackcatbistro.com) and Sow's Ear. Slightly less formal, but still very nice, are Old Stone Station and Robin's (www.robinsrestaurant.com). An excellent casual family meal can be had at the West End Bar and Grill.
But in the end, you haven't been to Cambria if you haven't been to The Grill. They are famous for excellent, inexpensive BBQ. Try the pulled pork sandwich known as "The Pig". They also have Tri-Tip and Chicken sandwiches, ribs, burgers and great fries.
Relax, go slow, and enjoy!!!
Beach/ocean stuff
Whale watching (Dec-Jan and Apr-May are best)
Beach combing
Tide pooling
Kayaking (There is a rental place in town called Sea For Yourself.
Surfing/wind-surfing
Sand castles, etc., etc.
Nature adventures
There are miles of trails in Cambria

Ocean boardwalks
Cliff trails
Mountains/forests

Big Sur/HWY 1
Scenic highways and bi-ways (Check out Santa Rosa Creek Road)
Kid's fun
Beach/ocean activities
Shamel Park (great swings, a new playground and a pool in the summer months)
Elephant seals (see above)
Kid's shops in town (Soldier Gallery, toy stores, sport's card shop, magic shop)
Atascadero zoo
Children's Center in SLO (San Luis Obispo)
State Park
Montana de Oro is a State Park that offers gorgeous beaches, mountain bike/hiking trails, and beautiful scenic views.
See:
www.parks.ca.gov/?page_id=592
Yearly Events
Exciting attractions
Featured Properties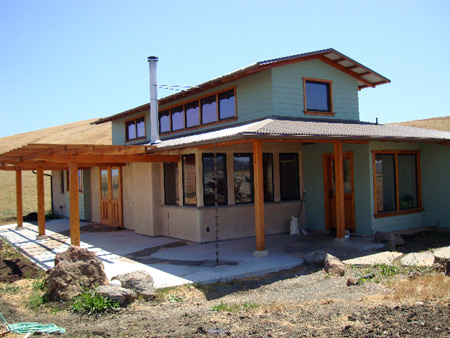 Click to view more photos.
Very unique and extraordinary property 5 minutes from Village of Cambria on Santa Rosa Creek Road. Private and gated 90 organic certified acres. Mostly fenced, permitted bridge over Santa Rosa Creek (property has creek frontage) very good well. Barn with living quarters over and ag processing kitchen below all with solar and PG&E. New straw bail house with radiant floor heating all solar.
FOR SALE - PRICE UPON REQUEST